Purpose of the Programme
To improve response capabilities of the parishes and region to natural and man-made disasters
What is a disaster?
A disaster is any event, natural or man-caused, which creates an intense negative impact on people, goods and services, and/or the environment, and exceeds the affected community's internal capability to respond, prompting the need to seek outside assistance.
In an effort to reduce, the likelihood of such occurrences and improve our ability to respond early the North East Regional Health Authority has embarked upon the task of strengthening our disaster preparedness status as well as our response to emergencies. Planning is of great importance when dealing with disaster management and emergency response as planning makes it possible to manage the entire life cycle of a potential crisis (Disaster Cycle)
Disaster Cycle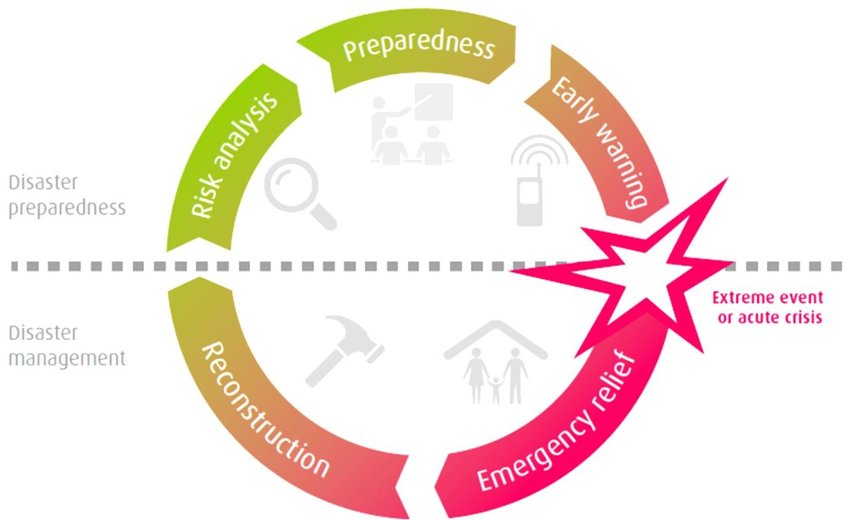 Planning for disasters and emergencies should not just be a response it must be proactive, strategic and operational.
Strategic and operational planning:
Establishes priorities,
Identifies expected levels of performance and capability requirements,
Provides the standard for assessing capabilities, and
Helps stakeholders learn their roles
This type of planning aims to reduce the negative impact or consequences of adverse events. It is important to note that while not all emergencies are disasters, all disasters are emergencies and must be treated with the urgency they deserve. In order for individuals or systems to respond in the way an emergency or disaster demands there must be continuous and requisite capacity building.
Capacity building is a crucial part of response situations. Currently, the NERHA has two Pan American Health Organization (PAHO) certified instructors in Mass Casualty Management situations who are tasked with ensuring appropriate and timely capacity building of both technical and administrative staff.
Beginning in August 2016, the NERHA embarked upon the goal of strengthening the disaster committees and staff sensitisation in matters related to disaster preparedness. Subsequently, a regional hospital disaster template was completed in December 2016 and adapted for use by all secondary care facilities within the NERHA. The presence of fire as a potential menace is with us every day. Fire sensitization sessions are done at both the primary and secondary care level. Regional schedules are generated and submitted to the Fire Prevention Team in each parish in order to regularize these exercises.
REGIONAL SHELTER LISTING
St. Mary
1. Albion Mountain Primary School
2. Beecham Hill Primary School
3. Boscobel Primary School
4. Free Hill Primary School
5. Galena Primary School
6. Hampstead All-Age School
7. Hampstead Basic School
8. Hampstead Primary and Junior High School
9. Hillside Primary School
10. Islington High School
11. Jacks River Primary School
12. Mango Valley Community Centre
13. Mango Valley HEART Training Centre
14. Martins Primary School
15. Mason Hall Primary School
16. Mason Hall SDA Church
17. New Orange Hill Primary School
18. Oracabessa High School
19. Oracabessa Primary School
20. Oracabessa SDA Church
21. Oracabessa SDA Temple
22. Port Maria High School
23. Port Maria New Testament COG
24. Port Maria Pentecostal COG
25. Port Maria SDA Baptist Church
26. Port Maria SDA Church
27. Preston Hill Primary School
28. Robins Bay Basic School
29. Trinity Primary School
1. Annotto Bay High School
2. Baxter's Mountain Primary School
3. Camberwell Primary and Junior High School
4. Castleton Primary and Junior High School
5. Devon Pen All Age School
6. Enfield Primary and Junior High School
7. Epsom All Age School
8. Jobs Hill Primary School
9. Long Road Primary and Junior High School
10. Mahoe Hill All Age School
11. May River Primary School
12. Mt. Joseph Primary School
13. Scott's Hall Primary School
1. Goshen Primary School
2. Iona High School
3. Jackson Primary and Junior High School
4. Labyrinth Primary and Junior High School
5. Lucky Hill Basic School
6. Lucky Hill Basic School
7. Mt. Angus Primary and Junior High School
8. Newstead Community Centre
9. Newstead Methodist Church
10. Newstead Primary and Junior High School
11. Pear Tree Grove Primary School
12. Ramble Primary and Junior High School
13. Retreat Primary and Junior High School
14. Tacky Comprehensive High School
15. Three Hills Primary
1. Belfield Primary and Junior High School
2. Brainerd Primary and Junior High School
3. Bromley Primary and Junior High School
4. Clonmel Primary and Junior High School
5. Elliot Primary School
6. Highgate Primary and Junior High School
7. Lewisburg Primary and Junior High School
8. Marlborough Primary School
9. Marymount High School
10. Paisley Primary and Junior High School
11. Richmond Primary School
12. Rock River Primary and Junior High School
13. Rose Bank All Age School
14. St. Mary High School
15. St. Mary Technical High School
16. Zion Hill Primary School